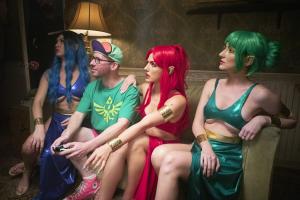 The goddesses
Full Cast Happy Faces
How video games are changing lives for the better
It's a cultural conversation about gaming and how it can affect your life for better or worse."
— Fish
BINGHAMTON, NY, UNITED STATES, August 29, 2022 /EINPresswire.com/ — In his music video debut, (Sam Fishman) "Fish" tackles "The Hero's Journey" head-on. Shot and directed by Blurred Pictures, with a concept and story by Fish himself, "Stuck Inside A Video Game" highlights the parallels between video games and real life.
During the height of the pandemic, Fish discovered the joy of the video game "The Legend of Zelda: Ocarina of Time." While navigating the infamous Water Temple, Fish was inspired to write a poem that he would later turn into a song.
"There are so many layers to this music video. It's a cultural conversation about addiction and getting out of your own way in order to find meaning and purpose in life. As a former habitual gamer, I have learned what a healthy gaming relationship looks like for me. I hope to pass this on to others who may be struggling and realize they are not alone." – Fish
Standout Lyrics: "Hero's journey never stops."
The Ithaca-based artist is now teaming up with New Vine Records for a September 1st release on the "Who Is Fish?" youtube channel.
John Carter
New Vine Records
+1 607-760-1812
email us here
Visit us on social media:
Facebook
Other
FISH – Stuck Inside A Video Game ft. Maddy Walsh (Official Music Video)
Asian News is your digital newspaper keeping you updated with the current affairs from around the world.
Any kind of content updation or deletion, kindly email us at info@asiannews.in