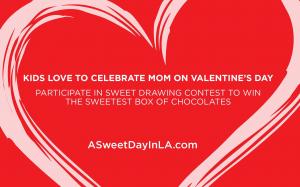 Staffing agency, Recruiting for Good is sponsoring another Sweet Day in LA; kids participate in Creative Drawing Contest to win mom chocolates for Valentine's Day www.ASweetDayinLA.com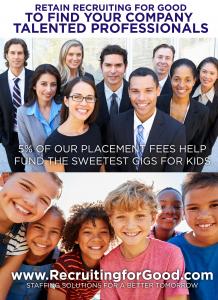 Recruiting for Good helps companies find talented professionals. And generates proceeds to make a positive impact #staffingsolutions #makepositiveimpact www.RecruitingforGood.com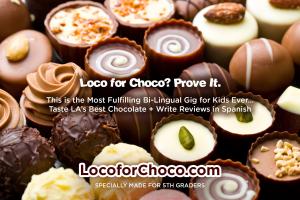 The Sweetest Bi-Lingual Kid Gig in LA Loco for Choco Created By Recruiting for Good #locoforchoco #bilingualkidgig #thesweetestgigs #recruitingforgood www.LocoforChoco.com
Staffing agency, Recruiting for Good is sponsoring The Sweetest Contest for Kids to use their creative talent for good and win mom chocolate for Valentine's Day
Thru our Sweet Gigs and Creative Contests; we teach kids 'There are NO Free lunches in life…but when you put a little effort you will always…Party for GOOD!'"
— Carlos Cymerman, Sweet Founder, Recruiting for Good
SANTA MONICA, CA, UNITED STATES, January 27, 2023 /EINPresswire.com/ — Recruiting for Good (R4G) is a forward thinking staffing agency in LA delivering companies sweet employment solutions by finding talented professionals and generating proceeds to make a positive impact.
Staffing agency, Recruiting for Good is sponsoring 'Another Sweet Day in LA;' kids participate in The Sweetest Creative Drawing Contest to win mom chocolates for Valentine's Day.
According to Carlos Cymerman, Sweet Founder of Recruiting for Good "Thru our sweet contests and gigs; kids learn to use their creative talent for good!"
How Parents Help Their Kids Participate?
Contest for Elementary School Kids
1. Parents take a picture of your kid's drawing "what you love most about mom?"
2. Email It to Sara(at)RecruitingforGood(dot)com Before February 10th, 2023.
3. The 10 Most Creative Drawings Win a "14 Piece Godiva Chocolate Heart Box!"
When You Email Picture (include your child's first name, grade, and what school they attend).
Carlos Cymerman, "We'll be gifting 10 Sweet Lucky Moms on behalf of the sweetest talented kids…chocolate for Valentine's Day!"
About
To celebrate 25 years in business, Recruiting for Good is launching The Recruiting Co+Op to generate proceeds on behalf of members who successfully participate in our referral program. To learn more visit www.TheRecruitingCo-Op.com.
Participate before March 31st, 2023 to earn $2500 Summer Camp Saving Reward.
We help families save money on Summer Camp! Moms can participate together to earn double saving rewards www.SweetMomsClub.com
Since 1998, staffing agency Recruiting for Good has been delivering sweet employment solutions by helping companies find and hire talented professionals they love; in Accounting/Finance, Engineering, Information Technology, Marketing, and Operations. And R4G generates proceeds to make a positive impact. www.RecruitingforGood.com
Candidates and Companies Help Recruiting for Good make a positive impact 20% of our proceeds fund our sweet work programs preparing kids for life to learn more visit www.RecruitingforGood.com Hire The Best Talent Today and Make a Positive Impact #landsweetjob #makepositiveimpact #partyforgood
Since 2020, Recruiting for Good has been funding and running The Sweetest Gigs for Talented Kids (a meaningful work program); teaching sweet skills, success habits and positive values that prepare them for life.
Our Sweet Mission is to teach kids that "There are NO Free lunches in life…but when you put a little effort you will always…Party for GOOD!"
Carlos Cymerman
Recruiting for Good
email us here
Visit us on social media:
Facebook
Twitter
LinkedIn
Instagram
Asian News is your digital newspaper keeping you updated with the current affairs from around the world.
Any kind of content updation or deletion, kindly email us at info@asiannews.in