NEW DELHI: For Pakistan, 2023 has gotten off to a very rocky start and the outlook is expected to get bleaker over the coming months.
Its economy is in the doldrums and may collapse at any moment; vast regions of its territory along the Afghan border are increasingly falling under the influence of a resurgent Pakistan Taliban; and its major political parties are locked in a fiery battle that may not get resolved even if general elections are held later this year — a situation that may raise the possibility of the country's return to military rule.
Economy on the verge of collapse
Long queues of vehicles at fast emptying filling stations, hours-long blackouts and desperate fights for food have become common place as the Shehbaz Sharif government struggles with Pakistan's worst economic crisis since its formation in 1947.
The country is facing a 28% inflation rate and the breakdown of the supply chain may cause hyperinflation. This could be in addition to more imported inflation due to steep currency devaluation. On Friday, Pakistan's currency depreciated to its lowest against the US dollar at 262.6 rupees.
The Pakistani rupee has depreciated sharply after the government removed an unofficial cap on the USD-PKR exchange rate to revive the stalled International Monetary Fund (IMF) loan programme.
Meanwhile, the State Bank of Pakistan has just US$4.4 billion in forex reserves, barely enough for three weeks of imports. Recently, the central bank increased its benchmark interest rate to 17%, the highest in more than 24 years.
Experts have warned that if the country is not bailed out soon, Islamabad could go bankrupt.
An oft-announced $13 billion loan from Saudi Arabia and China has yet to materialise.
The IMF is the only forum that can save the country. But many experts say that Pakistan will have to make some tectonic shifts in its policies to secure more funding.
Pakistan received US$6 billion IMF bailout in 2019. It was topped up with another US$1.1 billion in August 2022 to help the country following unprecedented floods. But the IMF suspended disbursements in November due to Pakistan's failure to make more progress on fiscal consolidation amid political turmoil in the country.
Blackouts, fuel and food shortage
Petrol stations across Pakistan are quickly running dry due to reduced supplies by oil marketing companies. Even Islamabad now regularly sees serpentine lines of vehicles at filling stations.
According to petrol dealers, companies have cut down supplies of petroleum products over long delays in the issuance of letters of credit by private banks for imports.
The petroleum division's top officials are worried about the development as Pakistan is already facing a gas crisis. In some of the main pockets of the country, gas has become a rare commodity.
A vast majority of Pakistan has also been dealing with extended blackouts as the Shehbaz Sharif government's energy-saving measures backfired, leaving citizens in panic and a state of confusion. Millions were left without drinking water as pumps failed to work.
Earlier this month, Pakistan government had announced austerity measures to tackle the growing energy crisis in the country, ordering all wedding halls, malls and markets to close by 8.30pm.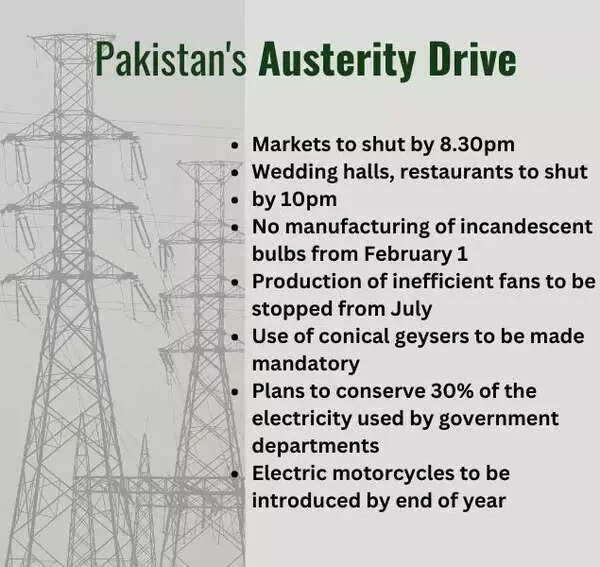 Meanwhile, a new report from the World Bank has revealed that an alarming six million people in Pakistan are currently experiencing acute food insecurity as a result of the devastating floods that hit the country last year. The situation has been exacerbated by the growing financial crisis.
1/20
Lights out: Pakistan hit by nationwide power outage
The floods, which took place between June and August 2022, resulted in the death of more than 11 million livestock and the destruction of over 9.4 million acres of cropland in the provinces of Balochistan and Sindh, which are already among the most food-insecure regions in the country.
According to the World Food Programme, the number of people experiencing food insecurity is projected to increase to 8.5 million between September and December.
Hospitals in the country are running short of medicines, and there may soon be shortages of goods such as wheat and fertilisers.
Taliban gaining ground
The return to power of the Taliban in Afghanistan was initially viewed by the Pakistan army and intelligence establishment as its victory. It has now become a headache for Islamabad.
A resurgent Tehreek-e-Taliban Pakistan has called of a ceasefire and launched attacks across the nation, including a suicide bombing in Islamabad.
The Afghan Taliban are also proving to be challenging allies for Pakistan. There are regular skirmishes along the border with mounting casualties.
Political turmoil intensifying
The unbuckled rhetoric of former Prime Minister Imran Khan, which reached a fever pitch a few months ago, has cooled down. But his attempts to dissolve two provincial assemblies where his party is in power are stoking political instability.
Last year, the cricketer-turned-politician took on political parties, the judiciary and even the military-intelligence establishment. After losing the vote of no confidence in April 2022, Khan launched a fiery attack and riled up his supporters with unsubstantiated claims of foreign conspiracy against him.
His repeated attacks against the army and the ISI prompted the agencies to react — something that has never happened before. Though Khan has now been barred from holding political office for five years, he still wields considerable influence and his party is riding a wave of mass popularity.
If the general elections in October fail to give a stable government, the army might take it upon itself to course correct.
Asian News is your digital newspaper keeping you updated with the current affairs from around the world.
Any kind of content updation or deletion, kindly email us at info@asiannews.in