NEW DELHI: Over 30,000 people were defrauded of Rs 200 crore after being led to believe they were being offered work-from-home jobs with major e-commerce sites. While three people have been arrested, police said the server of the website they used was traced to China and financial transactions to companies based in Dubai.
Police said they pursued the case after receiving a complaint on September 26 last year from a woman who saw an advertisement on Instagram offering her Rs 15,000 a day for working from home and registered herself.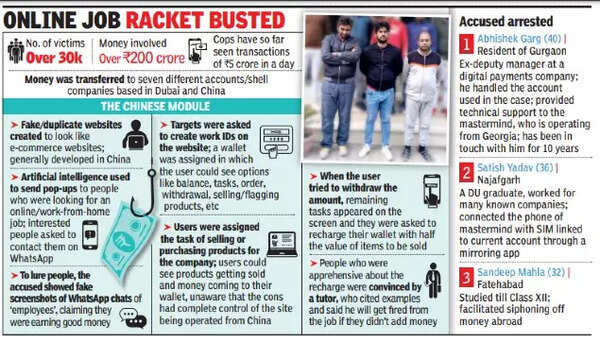 The Rohini resident was told that her assignment involved increasing sales for a particular online store. The website screen on which she worked showed money accumulating in the woman's wallet, but her employers also asked her to purchase some online products at discounted prices. The woman paid a total of Rs 1.2 lakh over four different transactions but then realised that she was not receiving any money purportedly accruing to her account.
After her complaint, police registered a case on November 20 at the cyber police station in Outer North district. A team under the supervision of Yashpal Singh, ACP (Operations) began investigations, during which it found that the Telegram ID used by the scammers was being operated from Beijing, China, and the WhatsApp number too was operational abroad. Police wrote to the banks to scrutinise the financial details and it was discovered that the money paid by the victim was deposited in the account of a shell firm. The average transactions per day in that account totalled Rs 5.2 crore.
The cops arrested three people, including a former deputy manager of Paytm, who was helping the accused with financial transactions. The main accused, police say, is based in Georgia. Cops said they have found links of the gang in Chandigarh, Mumbai, Haryana, Delhi, Punjab.
Devesh Mahla, DCP (Outer North), said, "The arrested men are Abhishek Garg, 40, Satish Yadav, 36, and Sandeep Mahla, 32. We have identified the main accused and he is in Georgia. So far, according to the money trail and statements made by victims, we feel around 30,000 people have been conned, with the money involved running into over Rs 200 crore. Our investigation is at a preliminary stage. More arrests and details will emerge in due course."
Police arrested Yadav and Garg on January 21 and Sandeep Mahla on January 23. Garg provided technical support to the main accused operating from Georgia, with whom he was in contact for about a decade. Yadav, a Delhi resident, is a Delhi University graduate and had earlier worked with various companies, including a mobile services firm. His task was to link the mobile phone of the main accused using a mirroring app to facilitate access to OTPs by the mastermind abroad. Sandeep's role was to siphon off the money abroad through e-wallets. "The siphoned amount went through seven different firms, often using crypto currency. Further investigation regarding this trail is in progress," added the DCP.
Police warned the public against falling victim to pop ups and messages on social media platforms offering work from home and part-time assignments and never to transfer any money in such dubious circumstances.
Asian News is your digital newspaper keeping you updated with the current affairs from around the world.
Any kind of content updation or deletion, kindly email us at info@asiannews.in