Patna: When 60-year-old Shyam Sunder Keshri had a lump near his nipple, he never thought it would be cancerous.
Like majority of the people, Keshri was also unaware of breast cancer in men and thought it to be a women-related disease. Thanks to timely medical intervention and proper medical aid, he is not only surviving, but leading a normal life now.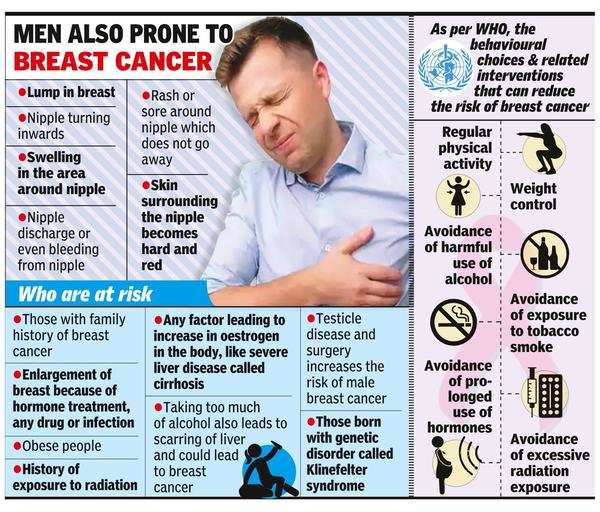 One of the surveys conducted in the national capital found that 81% of the population covered was unaware of breast cancer in men. The survey report stressed on the need to create awareness in this regard so that even men with lumps near their nipples or sore nipple or any symptom like these take the help of doctor.
From fighting against breast cancer to now a survivor, Keshri said he wanted to tell people, especially men, not to ignore any abnormalities near their nipples and always visit an expert. "It was in the year 2018 that I had a lump of the size of a grain near my nipple. I was taking homeopathy medicine," said Keshri, adding when it did not heal, he got it operated from a plastic surgeon. However, the cancerous cells were still there.
Senior consultant (breast oncology) at Jay Prabha Medanta, Dr Niharika Roy, who had operated him later with her team, said, "When he came to us, we got his biopsy done and cancer was detected near the area which was already operated for lumps. We got the PET (positron emission tomography) staging to find out whether the cancer had spread to other areas and operated him. Thank God he came to us in the early stage and cancer had not spread anywhere," she said, stressing on the need to create awareness about breast cancer in men.
Dr Roy also talked about another male patient who, though came with a lump, was not ready for biopsy. "He had misconception that with biopsy it will spread to other parts," she said, adding a proper procedure should be followed and simply removing a lump is not the solution.
Medical director at Jay Prabha Medanta, Dr Ravi Shankar Singh, said men do talk about their cardiac issues or blood pressure, but they avoid talking about breast issues. He further said presently the cases of gynecomastia have increased in men, that is enlarged breast because of obesity. That, too, is the reason behind breast cancer.
Chief surgical oncologist at Yashoda Somajiguda in Hyderabad, Dr K Sreekanth, said of the breast cancer cases, nearly 98% are in women and 2% in men. He said it usually occurs in elderly men when their testosterone gets low and estrogen hormone moves more in the blood, which could lead to breast cancer. He advised people with the family history of BRCA (breast cancer) genes to get tested as they are at risk.
Another Kolkata based clinical oncologist, Dr Subir Gangopadhyaya, said there was no difference in male or female breast cancer as they act in the same way and the line of treatment is also the same. "Be it surgery, chemotherapy, radiotherapy or hormone therapy, same treatment is used," said Dr Gangopadhyaya, adding that in men the chances of detection were as early as men are able to find it soon, compared to women.
Asian News is your digital newspaper keeping you updated with the current affairs from around the world.
Any kind of content updation or deletion, kindly email us at info@asiannews.in