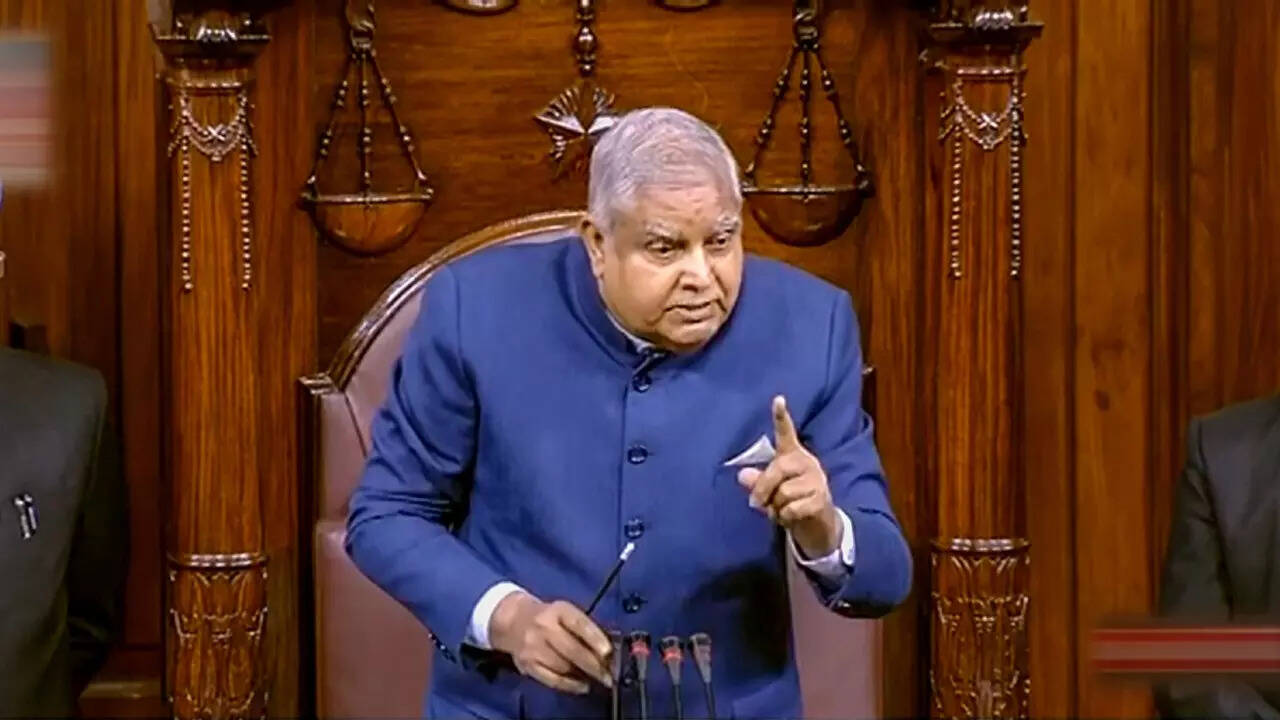 NEW DELHI: Both houses of Parliament witnessed heightened drama in the last couple of days during the Motion of Thanks on the President's Address. However, there was a difference. While Congress leader
Rahul Gandhi
arguably pulled off a coup in the Lok Sabha, his party president Mallikarjun Kharge failed to have his way in the Rajya Sabha due to the strict handling of the house by Vice-President Jagdeep Dhankhar.
Both Rahul and Kharge, while speaking in the Lok Sabha and the Rajya Sabha on the motion on February 7 and February 8 respectively, used the opportunity to target the Narendra Modi government by training guns at businessman Gautam Adaniin in the light of accusations made by US-based short-seller Hindenburg Research against his companies regarding alleged stock manipulation and accounting fraud by his group.
However, while Rahul had a free run, Kharge was interrupted by Dhankhar almost every time he levelled any allegations insinuating links between Adani and PM Modi. Later, though, several parts of the speeches of both the leaders were expunged from the records.
Rahul Gandhi in Lok Sabha
The Congress leader was hardly interrupted either by Lok Sabha Speaker Om Birla or the members of the treasury benches.
Even as the Wayanad MP kept levelling one grave allegation after the other making insinuations to link Adani with Prime Minister Narendra Modi, the opposition benches thumped the table and rejoiced with the ruling party appearing to be a helpless lot. Only a couple of BJP leaders such as Godda MP Nishikant Dubey and law minister Kiren Rijiju interjected and sought to contradict the Congress leader.
While talking about his recently-concluded foot march Bharat Jodo Yatra from Kanyakumari to Srinagar, Rahul said he got to hear the name of Adani throughout the 3,600 km of his yatra.
He made several other allegations against Adani and PM Modi. He also showed a couple of posters of the two. The Lok Sabha secretariat expunged references to Adani in 18 instances. His name exists in several other instances though.
The Congress objected to the expungement. While entering Parliament on Wednesday, Rahul asked media persons, "Why were my words expunged?"
Rajya Sabha MP and Congress general secretary in-charge of communications Jairam Ramesh condemned the expungement of certain portions of Rahul's speech. He said in a tweet, " With the expunging of @RahulGandhi's remarks on PM-linked Adani MahaMegaScam, deMOcracy was cremated in the Lok Sabha. OM Shanti."
With the expunging of @RahulGandhi's remarks on PM linked Adani MahaMegaScam, deMOcracy was cremated in the Lok Sabha. OM Shanti

— Jairam Ramesh (@Jairam_Ramesh) 1675843750000
Mallikarjun Kharge in Rajya Sabha
While Rahul had his way in the Lok Sabha, leader of opposition in the Rajya Sabha Mallikarjun Kharge was not as lucky.
Kharge, while speaking on the Motion of Thanks on the President's Address on Wednesday, sought to rake up the Adani issue. However, he was discouraged by Vice-President Dhankhar who is ex-officio chairperson of the Upper House.
While Rahul named Adani on multiple occasions, Kharge could do so just once. While Prime Minister Narendra Modi was present in the house during the debate, Kharge made several insinuations which prompted Dhankhar to repeatedly ask them to authenticate the charges by end of the day.
Whenever Kharge sought to rake up the topic, Dhankhar would stop him and ask him to authenticate his allegations. The chairperson also pointed out to Kharge that his discourse was not up to the standard of a leader of opposition (LoP) and it did not suit him.
On other occasions, Dhankhar also stopped Kharge saying his allegations were beyond belief and that they were against national interest.
The vice-president appealed to Kharge and other opposition members to maintain dignity.
Kharge demanded a probe by a Joint Parliamentary Committee (JPC) into the allegations against Adani.
In the beginning of his speech, Kharge alleged that the BJP members and ministers were spreading hate while the PM kept silent. Using a term for the PM which was later expunged, he asked Modi to take a stern view on the matter.
Dhankhar intervened and said the remarks did not suit Kharge's stature. He said, "Frankly speaking, there are certain positions for which we have to have great regard. It was in this house, on December 8, I said, when the leader of the house will speak, the leader of opposition will speak, and the two former prime ministers will speak, I will look at the rule book later. Why? These positions have august stand. I said so. Similarly, we cannot treat institutions with that kind of observation. You are a very senior member Sir. If anyone in the house was to use an expression for the LoP, I would come to the rescue of the LoP. It is an elevated constitutional position. At least I expected from you Mallikarjun Kharge ji that you will raise the level of the debate and not use those juicy expressions. They are not good."
When the Congress MPs including party general secretary in-charge of organisation KC Venugopal and former Madhya Pradesh chief minister Digvijay Singh protested, he further said, "I will not allow debate to go to that level… I would urge the LoP to control his members. Honorable members, when the LoP made reference to Ambedkar ji, I remind you of the same observations, that it is the bounden duty of every member of this house to allow decorum. It is for the LoP to take a call to what level he wants to take the debate."
Kharge protested the interruptions by the chairperson. He said, "Sir, if you keep interrupting me like this, what can I say? My flow gets broken. If there is a mistake, you expunge it… I was leader of my party in the Lok Sabha for five years and deputy leader in Karnataka for several years."
Dhankhar stood his ground and said he had shown highest respect to the leader of opposition. "It is my duty here to ensure there is cordiality, congeniality and real debate and discussion. I have urged the honourable leader of the opposition that at his elevated level the discourse has to be very different," the VP said.
Kharge did not get discouraged despite the interjections expressed by the vice-president. He went on with his attack on the PM. He said, "The PM had said in 2014 that na khaunga, na khane dunga (Neither I will take bribe nor I will allow anyone to do so). I want to ask why is he favouring a few businessmen? The wealth of a close friend of Modi increased 13 times in two-and-a-half years. In 2014, it was Rs 50,000 crore which increased to Rs 1 lakh crore by 2019. What magic happened suddenly that his wealth increased by Rs 12 lakh crore in just years? I cannot understand. Is this a favour because of friendship?"
This prompted Dhankhar to stop Kharge again and asked the latter to authenticate his charges. He said, "The speech, the discourse cannot go to allegations which you cannot substantiate. I cannot allow this house to be a platform of free fall of information. Casting aspersions without any basis… I have insisted right from Day 1 that we have to be extremely careful… this house cannot be a platform to level allegations… I call upon Mr Mallikarjun Kharge to put documents on record right now which he has done with respect to allegations involving the name of the prime minister. You have used expressions which are not appropriate. You bring to the table huge experience. I also bring to the table a modest experience… The debate in the house has to be firmed up on duly authenticated record. This house cannot be a platform for free fall of information. We can't have the spectacle which we had recently."
Dhankhar further said, "I request you (Kharge) in the name of your seniority, in the name of the position you hold. I am saying so because you have in the last three minutes used expressions which you know are stigmatic. Every allegation will have to be authenticated. That is a direction of the chair."
He noted what Kharge said was beyond insinuation. He also objected to insinuations being made against the MP by party MP Digvijaya Singh. "We are reflecting on the prime minister of the country… You are making insinuations against the prime minister of the country."
Kharge resumed his address to only repeat his allegations while quoting the Hindenburg report.
Dhankhar stopped Kharge again amidst protest by the opposition members. Underplaying the Hindenburg report, he said, "Can we do anything on any report which comes from anywhere? We have to raise our level. My suggestion is let us believe in ourselves. Let us believe in our strength. Let us believe in our institutions. Someone speaking somewhere. Will he speak something about us and we will get rocked by it?"
Commerce and industry minister Piyush Goyal, who is also leader of the Rajya Sabha intervened and hit out at Rahul and the Congress party. He said, "This is the way Congress functions. They go abroad and hob-nob sometimes with someone else and sometimes with China. The wealth of their leader, without whose direction they do not do anything, has increased 16 times since 2014. I authenticate it."
There was another round of exchange of words between Kharge and Dhankhar when the latter stopped him from making one more round of allegations.
Kharge said, "In a short period, he got defence, airport, port, highways, and solar energy. He got money from the banks. He got the airports and ports which belong to the public. There are 30 lakh vacancies in the public sector. And 10 lakh people work in the public sector. But due to privatisation, now Scheduled Castes (SCs), Scheduled Tribes (STs), Other Backward Classes (OBCs) and economically weaker sections (EWSs) are not getting jobs. You gave Rs 82,000 crore to Adani but only 30,000 people work with him and still he gets encouragement. The assured jobs have finished. Strengthen the public sector."
The vice-president intervened saying that India has a robust mechanism for people to get projects. Turning towards senior Congress leader and former finance minister P Chidambaram, he said, "We cannot send a signal. Mr Chidambaram, you know more than anyone else. We have a transparent, accountable and robust mechanism. I am only questioning the LoP. He is trying to give an impression that India is a country where contracts can be given like this. No. Contracts are given on the basis of accountability and mechanism. I know the rules are such. LoP will bear this in mind… Honourable members, I have got input from very senior quarters in the country and outside the country that Parliament should not be allowed to be used or run down our transparent, accountable and robust mechanism. LoP said as if something has been given on a plate… We have to say from this platform only that which is in the national interest."
The opposition members protested over the VP's remark on national interest and demanded him to expunge his remarks.
Dhankhar justified his remarks and said, "Why did I say so? Because an impression was explicitly given by the leader of opposition that the largest democracy on earth is giving contracts like this."
Kharge got enraged. Taking strong exception to the VP's remarks, he said, "Sir, I differ with you. If I speak the truth, am I anti-national? I am not anti-national. I am more patriotic than any of you. I am a bhumi-putra (son of the soil). I have not come from Afghanistan or from Germany or from other countries. I am a native of this land. I am a mool-Bharatiya (original Indian). You don't try to suppress me and my feelings."
The VP sought to smoothen the ruffled feathers of the LoP. He said, "We greatly appreciate you being a patriot. All of us are. There is no one here who is not a patriot… I am neither this side or that side. I am on the side of the Constitution. I can't be enlisted."
Kharge broached the topic one last time without taking any names. He said, "One person took crores from public sector banks and within two years captured wealth worth Rs 12 lakh crore. That is why we want a Joint Parliamentary Committee to be set up for truth to be brought out."
Dhankhar mildly objected to Kharge saying "captured". On his repeated demand for authentication, he read out a couplet to take a dig at Kharge and the opposition members. He said, "Why did I demand authentication? Na khata na bahi, jo main kahun wo hee sahi (There is no account or register. Whatever I say is the only truth?)"
Asian News is your digital newspaper keeping you updated with the current affairs from around the world.
Any kind of content updation or deletion, kindly email us at info@asiannews.in