A driver who deliberately rammed a police officer off his motorbike in a "violent and aggressive" act has been jailed.
Joseph Ward, 24, reversed his Mitsibushi Land Cruiser into Inspector Tony McGovern during a traffic stop in Royston, Hertfordshire.
Ward then sped off in the vehicle, leaving an injured Inspector McGovern at the scene.
Inspector McGovern, who recorded the incident on his headcam, was taken to hospital to be treated for injuries to his legs, shoulders and back.
On Wednesday, Ward pleaded guilty to 14 offences, including assault occasioning actual bodily harm, dangerous driving and failing to stop for police.
He was jailed for four years.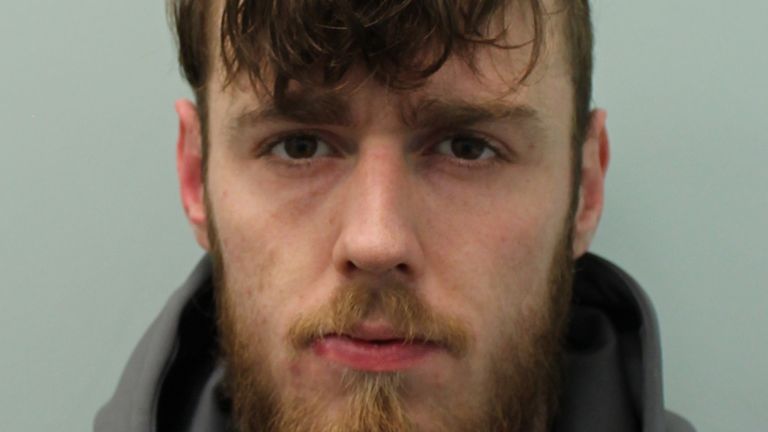 Speaking after the sentencing, Inspector McGovern, from the Violent Crime Taskforce, said: "I have been a police officer for 18 years and I never expected to be deliberately rammed off my motorbike in such a violent and aggressive act.
"I continue to recover from the injures I suffered that day, however, I remain determined to serve the people of London and remove violent and dangerous offenders from the streets."
The incident took place on 1 July last year, while Inspector McGovern, who was on a police motorbike, was attempting to carry out a traffic stop.
Following the incident, police launched an urgent manhunt for Ward, who they discovered was already wanted for an offence on 23 June that year, when he posed as a police officer and demanded money from another driver in north London.
Ward was arrested in Letchworth, Hertfordshire, on 20 July.
Police later linked him to two other offences, including on 5 July when he was involved in a collision in Crouch Hill and on 6 July where he failed to stop for police in Enfield, and damaged two police cars.
Detective Chief Superintendent Lee Hill, who leads the Violent Crime Taskforce, said: "Joseph Ward is a dangerous man and I have no doubt that he would have gone on to commit more offences.
"I am pleased that he has received a custodial sentence and I praise Tony for his outstanding bravery.
"Our officers work tirelessly to protect the public from violent crime and we will never tolerate any form of assault on emergency workers, whose job it is to protect the public."
Asian News is your digital newspaper keeping you updated with the current affairs from around the world.
Any kind of content updation or deletion, kindly email us at info@asiannews.in