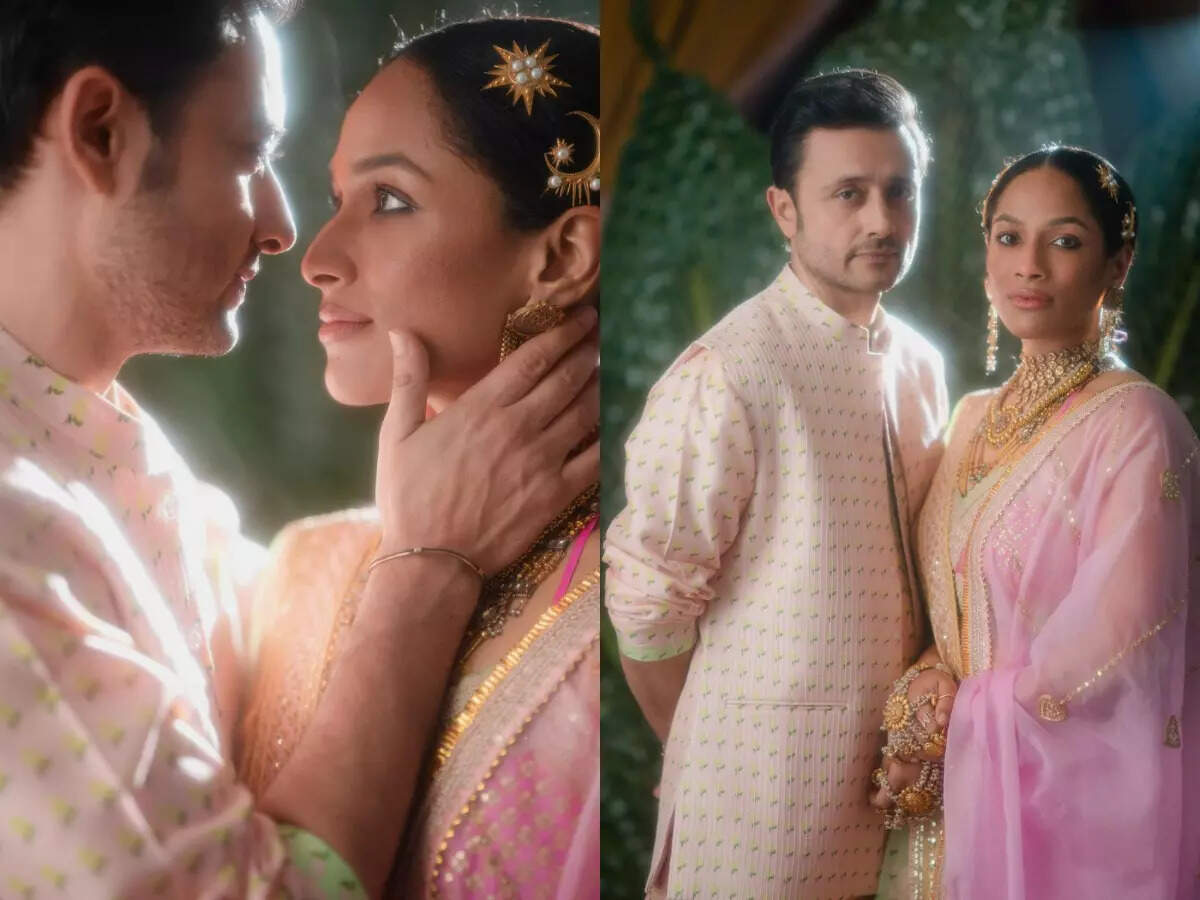 Indian fashion designer, Masaba Gupta who is known for the quirk she has brought to the Indian fashion design industry tied the knot with Indian film actor Satyadeep Misra in a private ceremony recently. The designer dropped pictures of her intimate wedding on social media.
"Married my ocean of calm,this morning.Here's to many many lifetimes of love,peace,stability & most importantly laughter. And thanks for letting me pick the caption – this is gonna be great! 😄❤️❤️❤️❤️❤️❤️❤️❤️❤️❤️❤️❤️❤️❤️❤️❤️❤️❤️❤️❤️," wrote the designer.
According to reports, Masaba has a court ceremony with Misra whom she met on the sets of her much-talked about show Masaba Masaba. This is second marriage for both Masaba and Satyadeep. While the designer was married to producer Madhu Mantena from 2015-2019, Satyadeep married Aditi Rao Hydari many years ago before parting ways.
"Both Satyadeep and I wore House of Masaba's new bridal collection, which has yet to be launched. I guess this is the launch!" Masaba told Vogue.
While the bride slayed in a self-designed barfi pink raw silk lehenga from her label. The lehenga featured gold embroidery and a lime green dupatta with a wallflower print on it, the handsome groom rocked a barfi pink wallflower bandi and a comfortable kurta-pyjama.
"We had a simple court marriage. The idea was to keep it very small and in the presence of our immediate family. We wanted it to be very intimate because we felt that that was the right thing to do and we will not be celebrating in a big way going forward. However, there will be a party with close friends and family about 80–85 people who've had a meaningful relationship with Satyadeep and me," she added.
On being asked why she opted for an intimate wedding, Masaba told the magazine, The idea of choosing something intimate was because we're both conscious of not wasting ridiculous amounts of money. We are extremely private people and we want to be in the presence of family and loved ones for memorable days like these. We've both been there before and we saw that it doesn't make sense to do things that stress you out on such an important day. This is truly a private moment for both of us, and more than anything, we wanted to enjoy it. I think the mistake couples sometimes make is that it becomes more about the outward validation of what you're doing to please people. I didn't want any of that. We both didn't. We wanted to make this about ourselves."
We loved the couple's simple yet elegant wedding ensembles, tell us how did you like their wedding look in the comment section below.
Asian News is your digital newspaper keeping you updated with the current affairs from around the world.
Any kind of content updation or deletion, kindly email us at info@asiannews.in