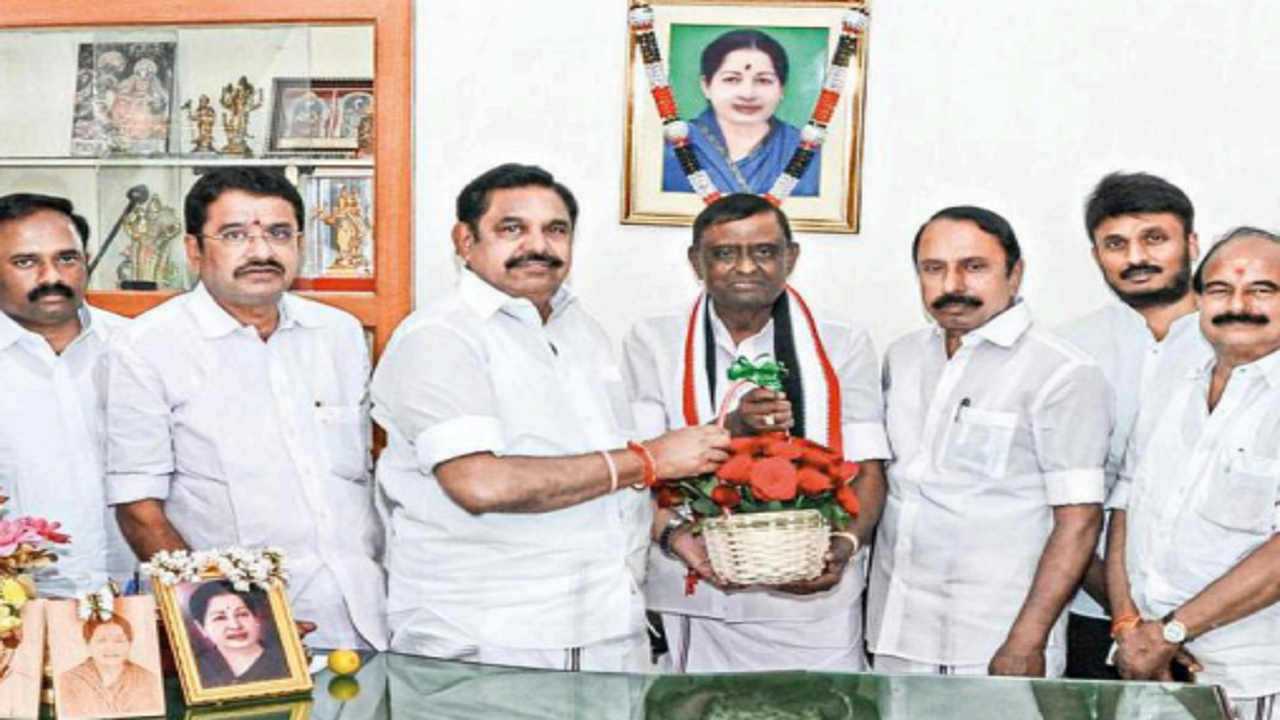 CHENNAI: A banner put up in the election office opened by the AIADMK led by interim general secretary Edappadi K Palaniswami in the Erode East assembly constituency on Wednesday with "National Democratic Progressive Alliance (NDPA)" printed on it instead of the National Democratic Alliance (NDA), signalled the uncertainty in the AIADMK-BJP alliance. This comes in the wake of the power tussle within the AIADMK and the possibility of the Election Commission of India freezing its two leaves symbol for the upcoming bypoll. The banner was changed several times, before it was finalized at 'AIADMK-led alliance'. Some Palaniswami associates said 'NDPA' was "a printing mistake", but sections in the AIADMK dubbed it "a deliberate attempt" by EPS to send across a strong message to the BJP and his party cadres about the delay on the part of the BJP high command in extending "unequivocal support" to its principal ally.
The initial banner had pictures of leaders of smaller allies, including G K Vasan and K Krishnasamy. "There has been no stay of the order of the Madras high court endorsing Palaniswami's leadership. EPS is in complete control of the party. So, partymen are furious with the BJP for refusing to acknowledge that. If there is no two leaves symbol, EPS will go with a free symbol, with or without the BJP's support," said a senior leader, seeking anonymity. Palaniswami sent a delegation of former ministers, including veteran K A Sengottaiyan, to the state BJP headquarters on January 21, to seek its support. The AIADMK delegation was merely informed that "the message would be conveyed to the high command". Meanwhile, against the backdrop of the day's developments, BJP state chief K Annamalai left for New Delhi on Wednesday evening.
Palaniswami, who is the leader of opposition, chose not to react to Narendra Modi government's budget, even as his rival O Panneerselvam welcomed it. Among its erstwhile allies, the PMK chose not to support either the AIADMK nor the BJP, while Vijayakant's DMDK decided to field a candidate. The NDA in
Tamil Nadu
is in disarray ahead of the Lok Sabha elections. Despite declaring that the AIADMK was "a stronger and bigger ally", the BJP state leadership, however, issued a caveat that the party would never support an independent symbol.
Asian News is your digital newspaper keeping you updated with the current affairs from around the world.
Any kind of content updation or deletion, kindly email us at info@asiannews.in