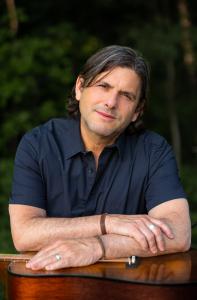 Photo credit: Morgan Elliott
In the tradition of The Beatles and The Byrds, upstate NY pop-rock artist Christian Parker has shared the smart, resonant clip for "Forever Man."
SYRACUSE, NY, USA, June 19, 2023/EINPresswire.com/ — ESSENTIALLYPOP.com | Premiere: Christian Parker's 'Forever Man' Expands On The Beatles' 'Nowhere Man' With Song About Wanting To Hold Onto Worldly Wealth
In 1965, John Lennon introduced us to the "Nowhere Man": the modern subject who stands for nothing, content to drift through life without broadening his worldview. "Isn't he a bit like you and me?," the Beatle asked, and millions have indeed recognized themselves in the portrait. But what about the man who possesses a sense of purpose and direction but who lacks the humility to put his ambition in perspective? One who doesn't see that wealth can't be brought to the next world? We might call him the "Forever Man" — constantly accumulating and achieving but rarely acknowledging his place in the chain of life. He's the subject of the new single by New York pop-rock singer-songwriter Christian Parker. In the tradition of the Beatles, it's a singalong song with a serious message, an echo across the decades, and an acknowledgment that there's more than one way to get lost.
It also deepens the relationship between Parker and the classics that have inspired him. His appreciation of the Beatles is evident in everything he's recorded: not only do his songs have the melodic and harmonic inventiveness associated with British Invasion guitar pop of the mid-'60s, they're also expansions on the cosmic themes explored by the Lennon-McCartney partnership. His appreciation of rock history doesn't stop at the Mersey, either. Sweethearts, his upcoming project, is a full-length tribute to the Byrds' landmark folk-rock album Sweetheart of the Rodeo. On "Forever Man," Parker channels the warmth and choral majesty of the Byrds, drenching the song in the close harmonies and chiming guitars reminiscent of Roger McGuinn in his prime. The arrangement demonstrates an understanding of the past. The lyric broadcasts his passionate concern about the future.
Morgan Elliott's smart, resonant clip for "Forever Man" is another exercise in time travel. The director gives us a photo book sprung to life — an array of snapshots from the life of Christian Parker. Some are still images, and some sing back to the camera. We see the young Parker learning to play guitar like his heroes did, taking the stage with his bandmates, reading himself to blow into his harmonica. We're also shown candid shots of the singer surrounded by family or leaning out of the window of a rural Upstate barn. While none of these digital photos deliberately mimic poses on the covers of famous albums, they're all informed by the iconography of the British Invasion and the adamantine style of classic rock. It's all a reminder: material items may not last forever, but great music does.
More Christian Parker on HIP Video Promo
More Christian Parker on his website
Andrew Gesner
HIP Video Promo
+1 732-613-1779
email us here