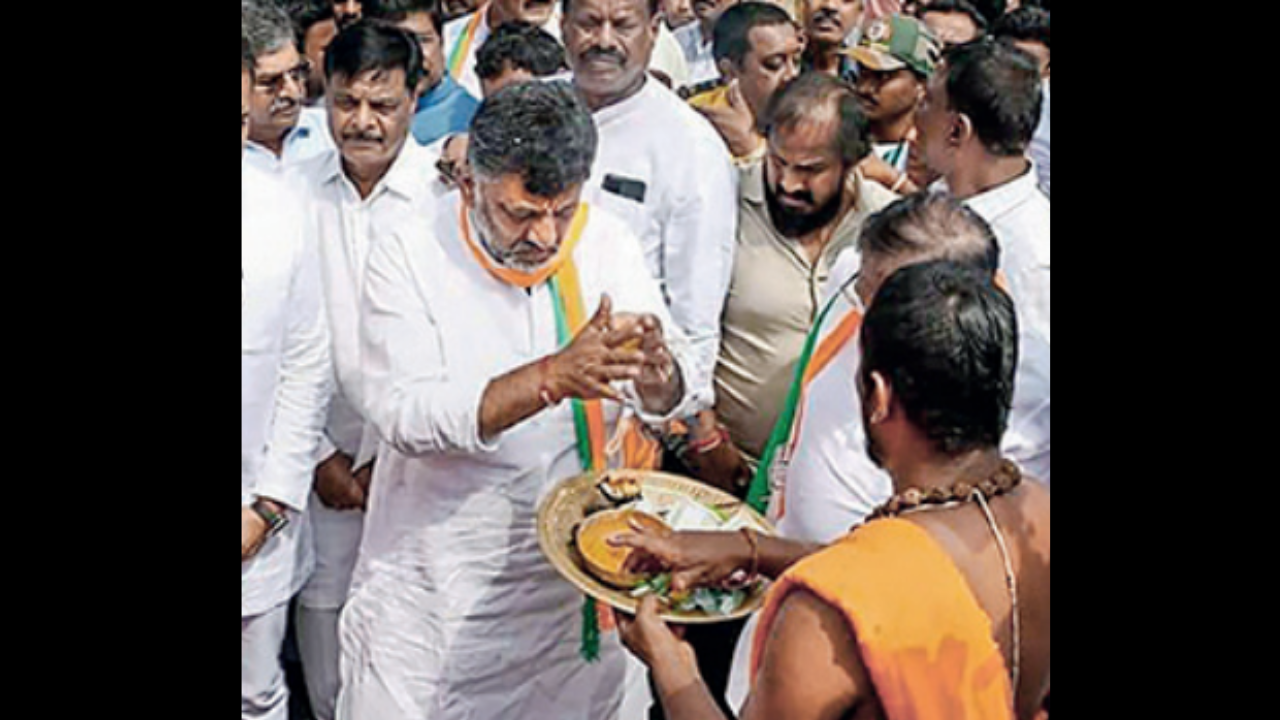 SHIVAMOGGA: State Congress president DK Shivakumar on Wednesday said he has received yet another summons from the Enforcement Directorate (ED), asking him to appear before it on February 22, while his daughter has been served notice by the Central Bureau of Investigation (CBI).
Shivakumar, currently leading a Prajadhwani Yatra across south Karnataka, alleged the ED and CBI are slapping notices and conducting investigations only against opposition party functionaries and not against
BJP
members. "Everyday notices are arriving; one came to my daughter yesterday [Tuesday]," Shivakumar said.
"Notices were sent to our college regarding fees paid and exams passed. What can I say? If they are questioning me about college fees, imagine what else they are asking. I leave it to God." He said he had furnished all the information he had on the National Herald money laundering case on several previous occasions that he was asked to appear.
"Now they are again asking me to appear on February 22. Should I go ahead with the Prajadwani Yatra or appear before ED?" Later, Shivakumar visited Bhadravathi and met workers of Visvesvaraya Iron and Steel Plant (VISL), who are staging a dharna against SAIL's decision to shut down the plant.
Addressing a rally, Shivakumar said: "Former CM Siddaramaiah had allotted ore to VSIL to ensure it earns a profit as it is crucial for the economy of the industrial town. But
BS Yediyurappa
and his MP son, BY Raghavendra, have done nothing to revive the plant.
He promised to invest Rs 6,000 crore in upgrading the plant but instead duped the public. Mysore Paper Mills was closed down some time ago, and now its VISL." Referring to BJP functionaries' claims that Yediyurappa developed Shivamogga, he said: "Recently, the BJP government held a global investors' meet in Bengaluru. How many investors showed interest in investing in Shivamogga?"
Asian News is your digital newspaper keeping you updated with the current affairs from around the world.
Any kind of content updation or deletion, kindly email us at info@asiannews.in