MUMBAI: Even after two days of strong denials and threat of legal action by the Adani Group against a report by US-based Hindenburg Research, stock prices of group companies were pummelled on Friday. Three of the 10 stocks fell as much as 20% each to hit the lower circuit breaker.
The two-day sell-off left the group's shareholders poorer by $51.6 billion or about Rs 4.2 lakh crore, BSE data showed. It also wiped off over $25 billion of the personal net worth of Gautam Adani, the group's chairman, to below $100 billion and relegated him to seventh richest in the world, from third earlier this week, Forbes data showed. The group chairman's net worth is now at $96.6 billion (about Rs 7.9 lakh crore).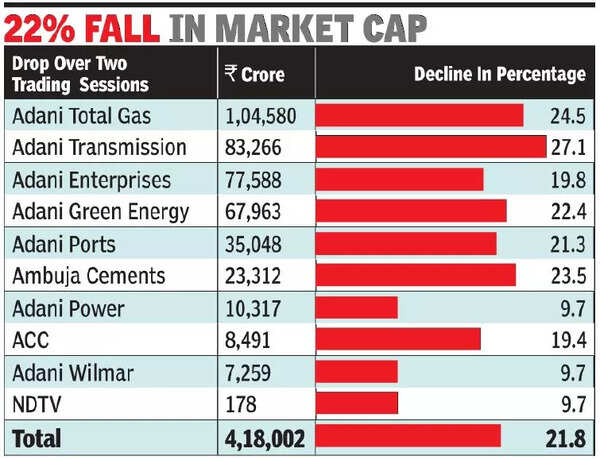 The sensex dropped 874 points or 1.5%, its biggest single-day loss in over a month, to settle at 59,331, its lowest close since October 21. SBI was 5% lower at Rs 540, while LIC lost 3.5% to Rs 666 on concerns over exposure to the group.
Asian News is your digital newspaper keeping you updated with the current affairs from around the world.
Any kind of content updation or deletion, kindly email us at info@asiannews.in