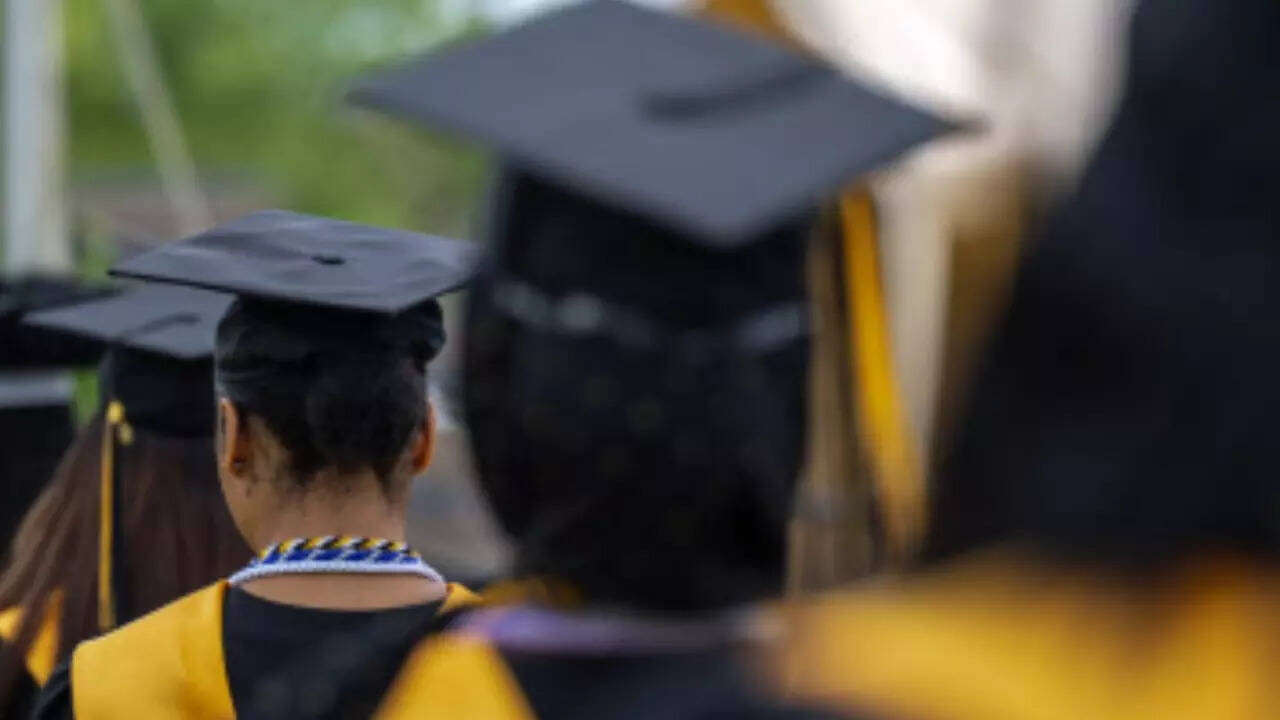 NEW DELHI: Over 78.9% of 4.1 crore students in higher education are enrolled at the undergraduate level, and of the total enrolled students over one crore are pursuing BA.
Another 17 lakh (4.2%) of the students are doing BA (Hons) from various higher education institutions. This was revealed in the All India Survey on Higher Education (AISHE) 2020-21 released on Sunday by the ministry of education. State-wise data shows Karnataka, Telangana, Kerala and Himachal Pradesh having the highest number of colleges per lakh eligible population. Though the overall enrolment is on a record high, there has been a dip for Muslims and other minorities in higher education, which otherwise has been an upward trend for the past five years.
The government data showed that BA courses had the highest enrolment in the country at over 1 crore students, followed by Bachelor of Science (BSc) courses at 49.12 lakh students, according to the government's AISHE 2020-21. In BA, 52.7% are females and 47.3% are males. The latest survey also showed that at undergraduate level in arts and science there are more females. Even at postgraduate level in streams like science, science, commerce and education, females outnumber males by a big margin.
As per the report, BSc "has 49.12 lakh students enrolled (of them 52.2% are females). There are 43.22 lakh students enrolled in BCom (of them 48.5% are girls). BTech has 23.20 lakh enrolled students, of which 28.7% are females. Bachelor of Engineering (BE) has 13.42 lakh students enrolled, out of which 28.5% are females."
At the postgraduate level, the maximum number of students are enrolled in social science stream (9.41 lakh students, of whom 56.5% were females were girls), followed by Science. Total enrolment in science stream has 6,79,178, out of which 61.3% are females. Management stream has 6,86,001 students enrolled for PG with 43.1% being females.
"Commerce stream has 5.36 lakh students enrolled for PG with 66.5% female students. There are 3.20 lakh students enrolled in PG in Indian languages which are divided into 12 sub-streams. The number of students enrolled in education stream is 2.06 lakh, in which major contribution is female with 64.4," the report said.
The MoE has been conducting the annual survey since 2011 where it collects data which include student enrolment, teachers' data, infrastructural information, and financial information, among others. From 17.39 lakh enrolment in 2016-17, the number of Muslim students rose to 21 lakh in 2019-20, before it dipped to 19.21 lakh in the latest study. Similarly, from 7.9 lakh in 2016-17 to 8.8 lakh in 2019-20, number of other minority students in the latest survey stands at 8.2 lakh.
Asian News is your digital newspaper keeping you updated with the current affairs from around the world.
Any kind of content updation or deletion, kindly email us at info@asiannews.in